GALLERY
Picture gallery of panel of experts from government and private sectors that have presented fresh perspective and insight to mitigate Thailand's flood crisis.


Hemant Nagpal,
Vice President
, Guy Carpenter & Co Pte Ltd,
Singapore


Dr Thongchai Roachanakanan,
Director
, Department of Public Works, Town & Country Planning,
Ministry of Interior,
Thailand


Frank Kelly,
Chief Executive Officer
, Global Flood Defence Systems,
UK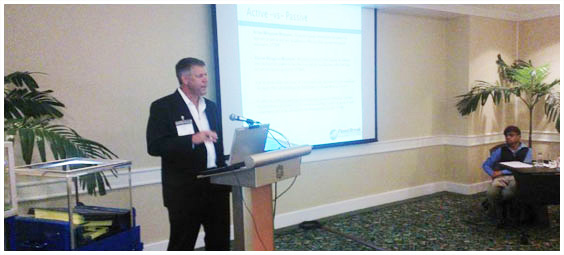 Lou Waters, President/Founder, FloodBreak, USA

Wendi Goldsmith, Chief Executive Officer, Bioengineering Group, USA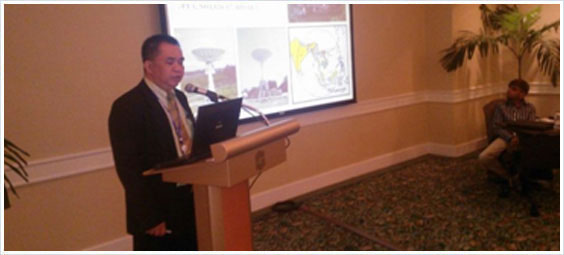 Dr Chaowalit Silapathong, Director, Geo-informatics Center, Geo-informatics & Space Technology Development Agency, Ministry of Science & Technology, Thailand
Including panel of flood prevention experts and industry players from Thailand…

Dr Royol Chitradon, Chairman, Sub-Committee on Water Situation Analysis, Water & Flood Management Commission; Member, National Water Resources & Flood Policy Committee & Director, Hydro & Agro-Informatics Institute, Ministry of Science & Technology, Thailand
Dr Arkom Termpitayapaisith, Secretary General, Office of the National Economic & Social Development Board, Thailand
Dr Somkiat Prajamwong, Director, Office of Project Management, Royal Irrigation Department, Ministry of Agriculture & Cooperatives, Thailand
Dr Seree Supratid, Natural Disaster/Flood Expert & Managing Director, Sirindhorn International Environment Park, Thailand
Dr Ing Ksemsan Suwarnarat, Chairman, Thai Flood Forum/Honorary Adviser, Environment Association of Thailand; former Inspector General, Bangkok Metropolitan Administration, Thailand
Dr Soisuda Kesornthong, Public Health Technical Officer & Head of Emergency Response Section, Bureau of Occupational & Environmental Disease Control, Ministry of Public Health, Thailand
Maytee Mahayosananta, Senior Meteorologist, Central Weather Forecast Bureau, Thai Meteorological Department, Thailand
Dr Kanchit Ngamsanroaj, Senior Manager, Power Plant Operation Department, Bhumibol Hydroelectric Power Project, Electricity Generating Authority of Thailand
Chanwalit Chantararat, Managing Director, Water Resources Business Unit, TEAM Consulting Engineering & Management Co Ltd, Thailand
Steve Pearmain, Managing Director, SLP Environment Co Ltd, Thailand
Marcel Wismer, Managing Director, Asia Pacific, AquaFence (Thailand) Co Ltd, Thailand
And many more…….
As well as panel of flood prevention experts and industry players from the region and international…

Josef Leitmann, Program Manager, Haiti Reconstruction Fund, World Bank, USA
Louis Altman, Chief Executive Officer, GlobaFone, USA
Dr Roelof Bruintjes, Chief Executive Officer, Advanced Radar Corporation, USA
David Conrad Konge, Vice President, Environment Solutions ApS, Denmark
Rainer Frauenfeld, Principal Adviser Disaster Programmes, UNOPS, Denmark
J.W.P.M (Hans) van Poppel, Director, Water International, Royal Haskoning, The Netherlands
Tjitte Nauta, Expert Advisor, Integrated Water Management, Deltares, The Netherlands
Carl Burssens, Chief Executive Officer, Hydroconcept Co Ltd, Belgium
Dr Jane Toothill, Director, JBA Risk Management Ltd, UK
Shaun Ellis, Regional Manager, HESCO Bastion Ltd, UK
Mark Wolf, Principal Consultant & Founder, Greenspan Technology, Australia
Dr Tadashi Sasagawa, Director, PASCO Corporation, Japan
Michael van de Watering, Director, Water International, Royal Haskoning, Singapore
Dr Kuntoro Mangkusubroto, Chairman, Presidential Working Unit for Supervision & Management of Development (UKP4), Indonesia

Dr Ir Nurwadjedi Sarbini, Head, Thematic Mapping & Integration Centre, Geospatial Information Agency, Indonesia
And many more…….
Companies and organizations that have provided expert advise as well as flood prevention solution and technology to mitigate Thailand's flood crisis…

A

dvanced Radar Corporation

, USA

AON

(Thailand) Ltd,

Thailand

Aquacast International Ltd,

UK

ASEAN Flood Control,

Thailand

Asian Institute of Technology,

Thailand

Bangkok B

ank Public Company,

Thailand

Bank of Th

ailand,

Thailand

Bazaar Asia Pacific Co Ltd,

Thailand

Bioengineering Group,

USA

Chuchawal Royal Haskoning,

Thailand

Electricity Generating Authority of Thailand,

Thailand

Environment

Engineering Association of Thailand,

Thailand

Environmental Solutions ApS,

Denmark

ESRI (Thailand) Co Ltd,

Thailand

Flood Defence Ltd,

Thailand

FM Insurance Company Ltd,

Singapore

Geospatial Information Agency,

Indonesia

Global Flood Defence Systems,

UK

Green Banyan Co Ltd,

Thailand

Greenspan Technology,

Australia

GSM Consultancy Sdn Bhd,

Malaysia

Guy Carpenter & Co Pte Ltd,

Singapore

Hydroconcept

Co Ltd,

Belgium

Innovation Norway,

Thailand

JBA Risk Management Ltd,

UK

JRO Property Co Ltd,

Thailand

Land Development Department,

Thailand

Ministry of Agriculture & Cooperatives,

Thailand

Ministry of Defence,

Thailand

Ministry of Interior,

Thailand

Ministry of Natural Resources & Environment,

Malaysia

Ministry of Natural Resources & Environment,

Thailand

Ministry of Public Health,

Thailand

Ministry of Science & Technology,

Thailand

Miyamoto International Inc,

USA

Prime Minister Office,

Thailand

PropMaxx Co Ltd,

Thailand

Royal Haskoning,

Netherlands

Royal Haskoning DHV,

Thailand

Siam Steel International,

Thailand

Sirindhorn International Environment,

Thailand

SLP Environmental Co Ltd,

Thailand

TEAM Consulting Engineering & Management Co,

Thailand

TenCate Geosynthetics Asia Sdn Bhd,

Malaysia

Thai Meteorologial Department,

Thailand

The Royal Thai Police,

Thailand

TROMBIK Engineers Ltd,

Switzerland

Universiti Teknologi Mara,

Malaysia